New Graduate Student Welcome
Welcome! We are so excited to have you join us at the University of Maryland! We would love to meet you at the New Graduate Student Welcome event on Thursday, August 24 in Ritchie Coliseum.




Schedule of Events
4:15 - 5:30pm - Engagement Workshops in Edward St. John's (ESJ)
5:30 - 7:00pm - Graduate Resource Fair in Ritchie Coliseum
7:00 - 8:00pm - New Graduate Student Welcome by university leadership in Ritchie Coliseum

New Graduate Student Welcome Program
Campus leadership will personally welcome you to the University of Maryland and share words of wisdom and opportunity. Speakers will include:
Graduate Student Workshops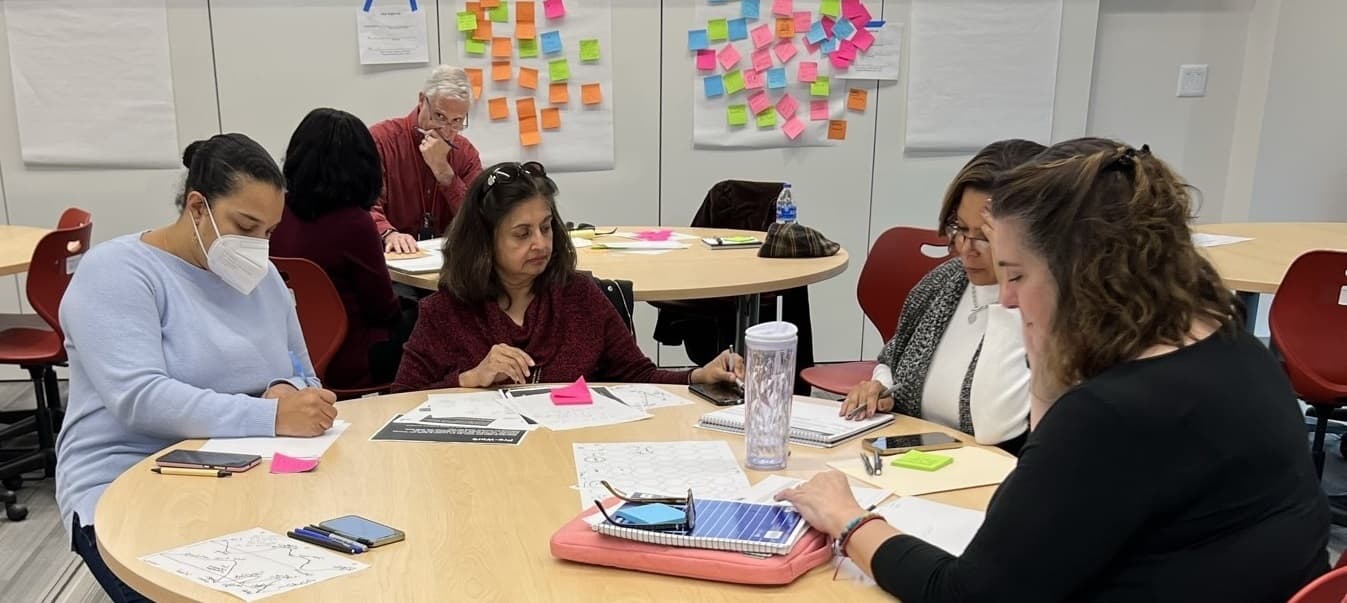 Before the GradFair, we are excited to offer a diverse selection of in-person workshops for our new graduates to attend. Come to campus by 4pm for an opportunity to learn and connect with other graduate students.
RSVP is optional to help us estimate. If you don't RSVP, you are still welcome to select the one most interesting to you, and we will see you there.
Workshops will be held in Edward St. John (ESJ) and room numbers are now located in each workshop description. See the map at the bottom of this page for location.
GradFair
After a deep dive into a topic that matters to you, join us for a resource fair at Ritchie Coliseum.
You have no idea how many great resources are available specifically for you as new graduate students at the University of Maryland, College Park. We want to introduce you to all of them right away, so we are offering this interactive resource fair.
RSVP for the New Graduate Student Welcome to be eligible for snacks and giveaways at the event.
Who Will Be There?
The following additional organizations have confirmed that they will be at the resource fair.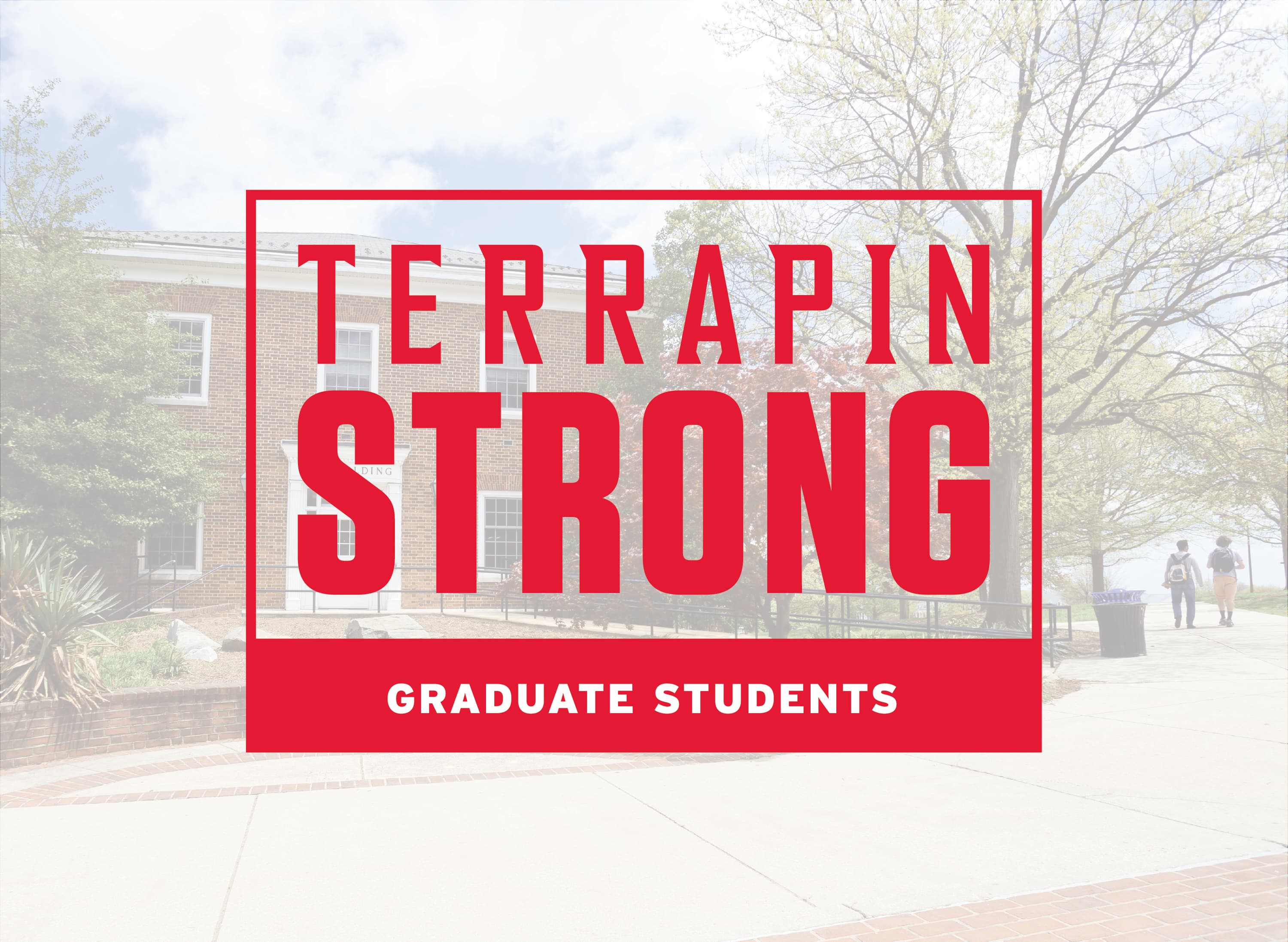 Prior to these events, all new graduate students should have completed the TerrapinSTRONG Onboarding course.
New Graduate Student Orientation & Involvement
In addition to this live welcome event, the Graduate School has a thorough orientation program, offered asynchronously through ELMS-Canvas.

The Division of Student Affairs also have an Office of Graduate Student Life to help you get involved and stay connected.
Transportation & Navigating Campus
Navigating campus can be difficult with construction and the traffic of new undergraduate students and their families moving into the residence halls. Parking is also extremely limited, so we encourage other modes of transportation when possible. Please use the below guidance to help you find New Graduate Student Welcome and the pre-event workshops.
Transportation
UPDATED 8/24
For those traveling in the immediate area, there are many alternatives to driving to campus. Download the Transit App to help you plan your individual route home!

Access the Shuttle-UM route information to see the service schedule specifically for August 24.

When leaving from the Ritchie Coliseum stop on Baltimore Ave, you can catch the Green, Purple, Orange and Blue buses directly to various locations. You can also catch any evening service bus and transfer at Regents Drive Garage for other routes (i.e. the Gold bus to return to Graduate Hills.)
Other ways to travel:
Where to Park
On August 24, parking will be free on campus in any numbered parking lot, but it will be extremely limited. We highly recommend carpooling or taking public transportation.

To avoid traffic caused by undergraduate student move-in and park closest to New Graduate Student Welcome, park in lot 16 or 17 or the parking lot located behind The Hotel. If those lots are full, you may need to proceed to XFinity Center and park in a numbered lot there.
On the map below, both lots are highlighted in yellow.
Lot 16 wraps around Fraternity Row, as well as Yale Ave (behind fraternity row).
You can use Leonardtown Community Center in Google Maps.
Use The Hall CP in Google Maps to find the parking lot behind The Hotel.

Finding Ritchie Coliseum
Ritchie Coliseum is located across Baltimore Ave/Route 1 from the majority of campus. By not having to drive onto the campus proper, you can avoid most undergraduate student move-in traffic.
In the map below, Ritchie is noted with a red circle and closest available parking is highlighted in yellow. Parking will be limited, and if these lots are full, you may need to proceed to XFinity Center to park in a numbered lot over there and walk or catch a shuttle to Ritchie Coliseum.
Finding Edward St. John's
Edward St. John's is commonly known as ESJ. ESJ is the location for pre-event workshops from 4:15-5:30pm. Due to significant construction on campus, parking will be very limited everywhere, but practically non-existent near ESJ. We recommend parking in the lots noted on the map below. If these lots are full, you may need to park in the numbered lots by the XFinity Center.

At the conclusion of the workshops, participants will need to walk to Ritchie Coliseum.
ESJ is located on the McKeldin Mall. From Regents Dr. when facing the Library, ESJ is the second building on the right of the Mall. Keep an eye out for yard signs guiding you from ESJ to Ritchie/parking.
ESJ is noted with a red circle on the map below. A red line shows the recommended walking path between ESJ and Ritchie based on current construction 8/24. The walking path is approximately 1800 feet or 1/3 mile. Use the interactive campus map to review the elevation profile.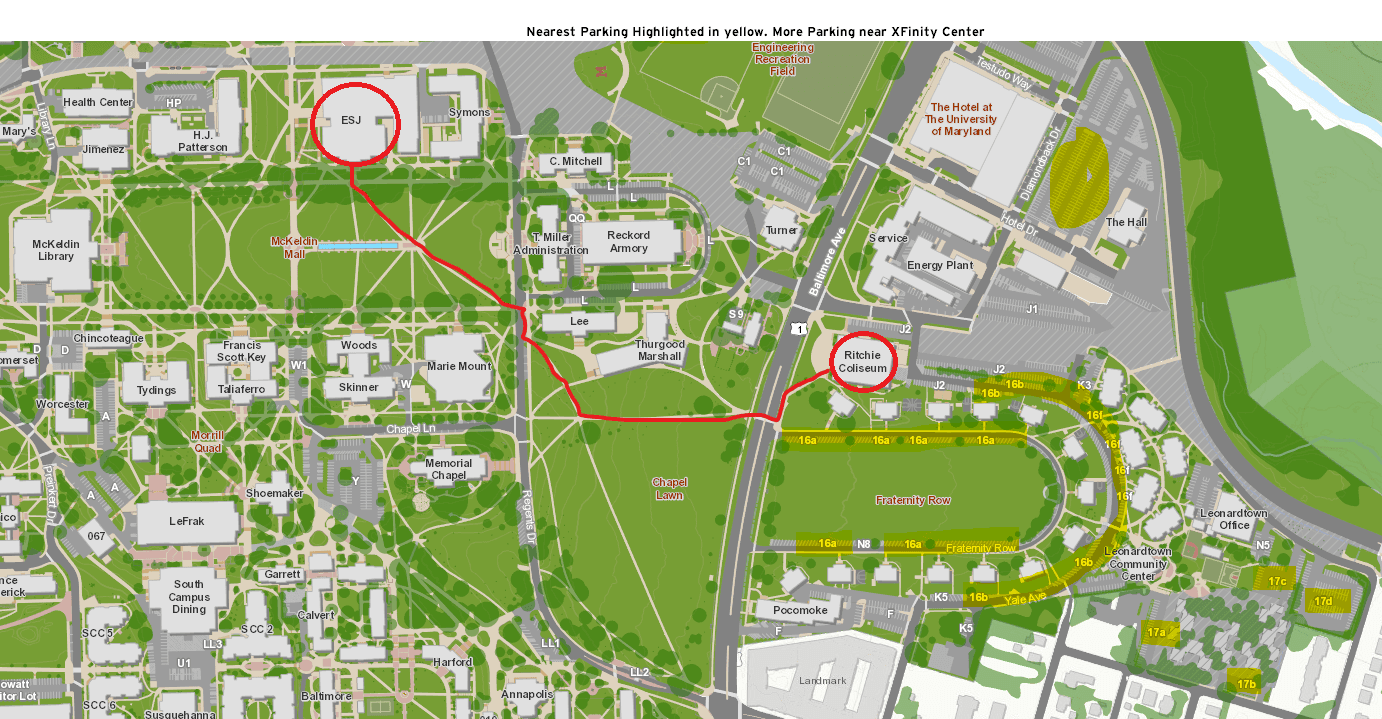 Accessibility
The University of Maryland is committed to providing access, equal opportunity and reasonable accommodation in its services, programs, and employment. To request accommodations, contact Leslie in advance of the event at lkrafft@umd.edu.
To learn more about our commitment to accessibility and the many resources available to help you create more accessible opportunities, visit accessibility.umd.edu.